Region 2000 Services Authority Odor Mitigation Update
In November 2016, the Region 2000 Services Authority has completed construction of the full-scale landfill gas extraction and treatment system in Phase III of the Region 2000 Regional Landfill – Livestock Road Facility for the purpose of controlling odors and fugitive landfill gas emissions. The landfill gas extraction system includes 13 strategically placed vertical landfill gas extraction wells, gas collection pipes, a compressor station and a flare unit. The system was placed in full service on November 17, 2016 and is currently extracting and treating nearly 1000 cubic feet per minute of landfill gas – close to a 100% increase of landfill gas extraction vs. the pilot scale flare system that has been operating since spring 2015. This new system is also designed with additional capacity to include additional landfill gas extraction wells to be installed as we reach capacity in the Phase III fill area and as we move into the recently completed Phase IV and future Phase V of the currently permitted landfill area.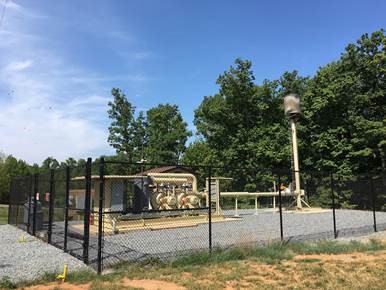 The grey areas on the landfill slopes shown in the photo below is a cement-fiber cover/sealant that partially covers the finished grade slopes. This is an intermediate cover solution to be used until the permanent landfill cap is constructed. This sealant helps trap the landfill gases and enhances the LFG extraction capacity of the wells and also helps prevent landfill slope erosion.
On March 17, 2016 the Authority placed in service the vapor-phase odor neutralization distribution system including 2600' of 6" diameter pipe installed along northwest, western and southern perimeter of currently active Phase III. This system evenly distributes an safe, odor neutralizing vapor solution 24/7/365. It's important to note that this vapor is not a "fragrance" to mask the odors, it's a safe, vaporized solution that mixes with the landfill gas odors in the air and neutralizes the odors.
At the same time, the Authority placed in service a "mobile working-face" odor neutralization misting system that distributes an safe odor neutralizer in areas where odors are most prevalent during operating hours.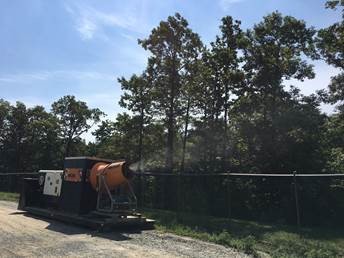 Other efforts to reduce landfill odors include spraying particularly odiferous incoming waste with an odor neutralizer dispensed through a dedicated fill face odor neutralizing truck mounted tank and spray system. Covering the fill face with soil vs. PosiShell on weekends and limiting operating hours on Saturdays. The Authority and members have also reduced the volume of wastewater treatment plant sludge received at the landfill.
The Region 2000 Services Authority is taking the landfill gas and odor issue very seriously as demonstarted by the $1.2 milion dollar investment in odor mitigation equipment over the past year. We are committed to improving this situation for our neighbors and the surrounding community and as a result of these odor mitigation strategies, the Authority has recorded a significant decrease in odor complaints comparing 2016-2017 timeframe to the same period in 2015-2016.
For questions please contact Clarke Gibson (This email address is being protected from spambots. You need JavaScript enabled to view it.) or (434) 455-6086.